Singing Birds & Whistlers

Fairwinds Antiques can perform many custom services to repair or restore your singing birds and whistlers. I specialize in those made by manufacturers such as Griesbaum, Bontem, Eschle, and Reuge.
Services available for singing birds include
re-feathering
re-covering of bellows
mechanical repairs
replacement or manufacturing of replacement gears
complete restorations
Below are some examples of my work.
Please
contact me
about the specifics of what you have and what you need done. I am here to help!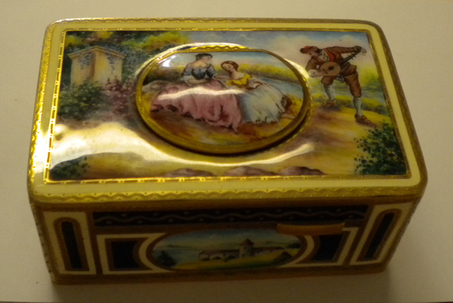 This beautiful example is a Griesbaum number 7 Enameled Bird Box that has been restored.

---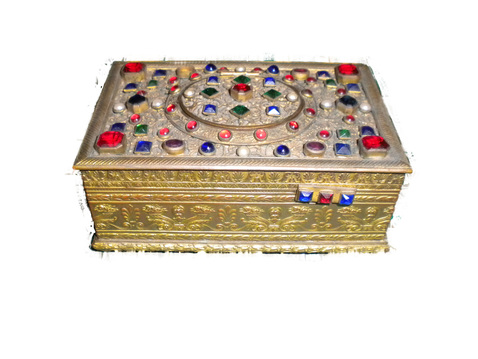 A fine example of a restored, jeweled singing bird box.

---
Here is a French Bontems Singing Bird Cage made prior to WW1 that was sent in for restoration.

The cage itself was in poor shape with missing and bent bars.





---

The restoration included complete disassembly, ultrasonically cleaning the mechanism, lubrication and reassembly. The cage was repaired, polished and lacquered. The gilded base needed repairs and was gilded with new gold leaf.

The bird was cleaned and new feathers added where necessary and a new rug was installed along with suitable greenery.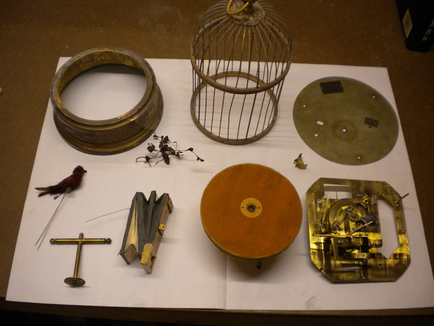 Here a Griesbaum Singing Bird Cage is completely disassembled prior to being restored. Typically the mechanism is disassembled, ultrasonically cleaned, lubed, and reassembled. Bellows are completely taken apart, new replacement air valves are installed if required, and the bellows recovered with the same type material originally used. Whistles are disassembled and cleaned prior to being reinstalled on the bellows.

Birds can be refeathered if requested and a new rug can be installed. Brass cages and bases are not repolished unless specifically requested by the customer. When all the work is completed the finished cage is run to make sure it sings correctly.


New parts are available for these Griesbaum cages from the factory.

---